Recretional Vehicules a revolution !
France Battery offers a wide range of lithium batteries LiFePO4 adapted to all types of recreational vehicles: motor homes, vans, vans …
Our batteries will serve perfectly for all your auxiliary equipment and will bring you a great autonomy in full safety and for a long time.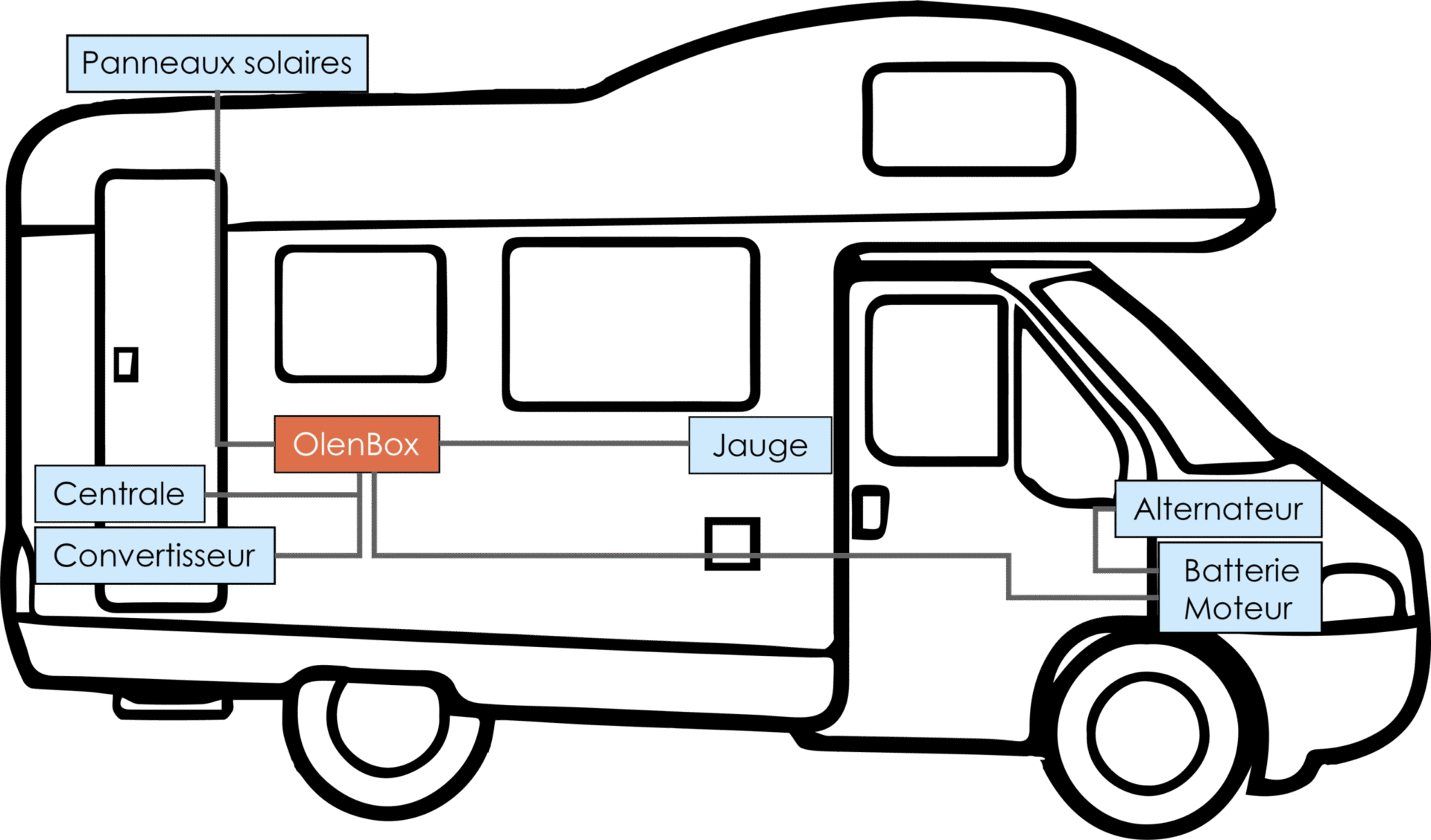 I exchanged my lead-acid battery for an OlenBox; it took me 5 minutes and now I have twice the autonomy for the same size battery. And on top of that, I'm happy to buy French!
Joël
Owns a camper van
(from Saône-et-Loire in France)
On the Road Again

: Choosing the best lithium battery for recreational vehicles
Summer is almost here and with the warm weather comes adventure, but what will power your next adventure?
Lead acid batteries still dominate the RV market, but many adventurers are turning to lithium batteries because they are a better alternative to traditional batteries. The advantages of lithium batteries, specifically LiFePO4, are numerous compared to lead acid batteries. When it comes to RVs, there are specific advantages that make lithium batteries the ideal choice.
1. Security. Your recreational vehicle (RV) is not just a way to get from point A to point B on your vacation. It's your vehicle and your home. So safety is even more important. FranceBattery LiFePO4 batteries are designed with built-in electronic safety measures. When they are in dangerous conditions (too high temperature, too high current, too low voltage, etc.) these batteries automatically shut down, thus avoiding any risk of damage including fire and explosion. Lead-acid batteries, on the other hand, do not include these safety measures and present risks, for example in the event of a short-circuit or overcharge. No battery is perfect, but FranceBattery lithium batteries are very safe.
2. Go further. A typical lead acid battery for RVs will only allow you to use 50% of its rated capacity. Lithium batteries are ideal for range wherever you travel. With very stable voltage levels, your lithium battery offers 99% usable capacity, so they are incomparable to lead acid batteries of the same capacity.
3. Travel light. Your VDL is big enough and heavy enough. Lithium batteries are typically half the volume and one-third the weight of equivalent lead-acid batteries.
4. Long life expectancy. LBattery life is an important consideration. Would you rather replace a lead-acid battery every two or three years or invest in a lithium battery that lasts more than ten years? Lithium batteries have a useful life easily 5 times longer than the lead acid equivalent.
5. No maintenance. With lead-acid batteries there is a need for regular maintenance and service. Lithium-ion batteries require no maintenance during their long life, saving you time and energy.
6. Real value in the short, medium and long term. UA lithium battery has a higher price tag than a lead-acid battery, but don't let the initial price discourage you. LiFePO4 batteries actually cost less than lead-acid batteries that need to be replaced regularly. This makes them an ideal investment for homeowners.
7. Protection of the environment. Your VDL doesn't have to have a negative impact on the environment. LiFePO4 is the green battery option you've been waiting for. It powers your commute with clean energy and reduces CO2 emissions. LiFePO4 batteries contain no lead, a toxic metal that causes lead poisoning, no dangerous sulfuric acid, and no cobalt, a metal with a controversial supply.
For several years, mobile home manufacturers have been committed to sustainable development. Thanks to our batteries, with or without electrical network, we don't see the difference anymore!
On these projects we involve our technical teams to be sure to stick as close as possible to your needs and your budgetary constraints.
Nothing better than a team to rely on for a subject as important as the electrical system of your Tiny home!